Wood is an organic and living material that requires constant furniture cleaning and maintenance to preserve its beauty over time. It is a natural material of plant origin that evolves. Remember that the change in color and the diversity of shades is completely normal: the air, the light, and in particular the humidity influence the deterioration and the transformations of the wood.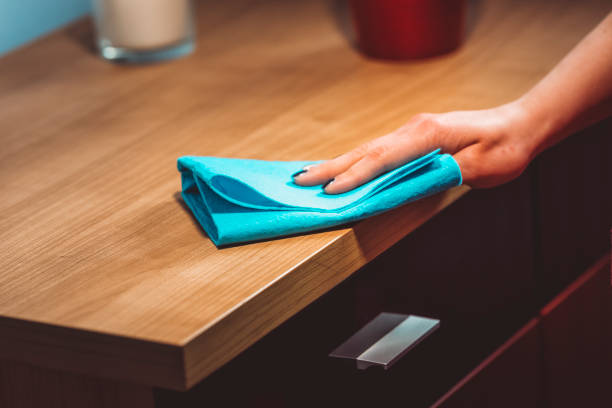 Wood is one material of choice for making office furniture.
There are several grandmother's tips that will allow you to perfectly clean your wooden furniture in an ecological and efficient way, whether it is a wooden table, a wooden chair, or other.
Be aware that the first step in any wooden table cleaning, regardless of the finish, is dusting!
The Different Techniques For Cleaning Wooden Furniture
Caring for raw wood furniture
Raw wood has no protection since it is neither varnished nor waxed. Its maintenance is, therefore, all the more important so that it retains its shine and natural effect.
Dampen a microfiber cloth with lukewarm water mixed with diluted black (or Marseille) soap. Spread the mixture over the entire piece of furniture, rinse, then dry. It's the perfect combo to keep the wood healthy.
If you have blond wood, spread a little beeswax or linseed oil: a guaranteed radiant result!
Clean waxed wood furniture
To clean a piece of furniture such as a waxed wooden table, nothing better than liquid beeswax! Make circular gestures over the entire piece of furniture using an impregnated cloth, leave to dry for approximately 30 minutes then massage the furniture in the direction of the grain of the wood with a new clean cloth to recover the excess wax.
If you're looking to remove stains, simply rub a sliced ​​cork soaked in turpentine and then wax the furniture. The original appearance will be restored.
Finally, if your furniture is too dirty with wax and has become almost sticky, we also have the solution! Sprinkle a little talc and gently rub the wood with a woolen cloth. The talc will absorb any excess wax.
Clean painted wood furniture
A cloth soaked in soapy water does the trick to clean painted wood furniture. For an even more whole result, you can use a small amount of ammonia and soda ash mixed with water.
Unusual Products To Clean Your Wooden Furniture
1. Mayonnaise
A water stain on your wooden furniture? No problem… Spread some mayonnaise on the damaged surface, let it act for 4 hours, wipe and you're done.
2. White toothpaste
Rings or white spots because of humidity? Toothpaste will be a great ally for cleaning your wooden furniture. Apply, rub and stains will virtually disappear automatically.
3. Nuts
This grandmother's trick may surprise over one. Rub a walnut kernel to remove the scratches.
SCS Group Integrated Services Recommendations:
Avoid placing your wooden furniture near a strong heat source.

Do not put bottles or glasses on your table without protection.
As you will have understood, to clean wooden furniture effectively, it is necessary to guarantee daily maintenance to ensure its longevity.
At SCS Group Integrated Services, the result counts, but the means count just as much. Using products and the practice of eco-responsible gestures have been non-negotiable since our beginnings. Our agents, trained experts in the cleaning sector ensured the quality of our professional cleaning services to meet all the needs of our customers, in compliance with a CSR approach.